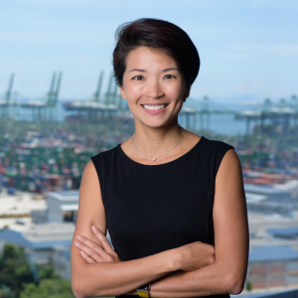 Professor Lynn Loo
Chief Executive Officer
Global Centre for Maritime Decarbonisation
bio
Prof. Lynn Loo is the chief executive officer of the Global Centre for Maritime Decarbonisation (GCMD), a non-profit organisation based in Singapore. With 22 centre-level partners and more than 75 project-level partners, GCMD's mission is to help the sector accelerate its decarbonisation efforts through shaping standards for future fuels, financing first-of-a-kind projects, and piloting low-carbon solutions in an end-to-end manner under real-world operating conditions. In the year since its founding, Loo led GCMD in commissioning a study to define the safety and operational envelopes for bunkering ammonia, a drop-in biofuels pilot involving thirteen vessels bunkering at two ports to bolster the integrity of green fuels supply chain, and a pilot to demonstrate shipboard carbon capture aboard an MR tanker on an end-to-end basis.
Loo is also the Theodora D. '78 and William H. Walton III '74 Professor in Engineering, and Professor of Chemical and Biological Engineering, at Princeton University. Before GCMD, she was Director of the Andlinger Center for Energy and the Environment, where she commissioned the Rapid Switch Initiative and the Net-Zero America Study that has provided unprecedented temporal and geographic granularity on transition pathways.
Loo received BSEs in chemical engineering and materials science and engineering from the University of Pennsylvania and her PhD in chemical engineering from Princeton University. She is co-founder of Andluca Technologies, a startup developing wireless smart window retrofits to increase building energy efficiency and occupant comfort. In addition to her numerous academic accolades, Lynn is a Young Global Leader with the World Economic Forum and a fellow of the American Physical Society and the Materials Research Society. She sits on numerous boards, including the Global Maritime Forum.