Presentation Author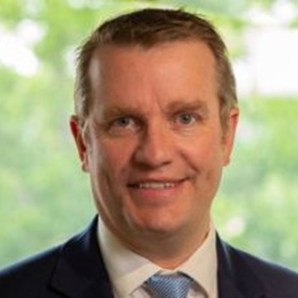 David Norman
Chief Executive Officer

Future Fuels CRC Ltd
Future Fuels CRC Ltd, Research is enabling Australia's pipeline conversion to hydrogen
Hydrogen can support the use of renewables and decarbonised energy in Australia and globally but it needs to be stored and transported efficiently. Pipelines can simultaneously both transport and store energy and existing pipelines offer a particularly cost-effective solution in supporting the energy transition. 
Future Fuels CRC is studying the conversion of sections of the Australian natural gas pipeline network to hydrogen service. This process could be replicated globally using the engineering research we are developing. 
To deliver this conversion, gas pipeline engineers and operators need new knowledge and practical guidance in the form of standards. 
Testing existing pipelines to prepare for conversion 
When a steel pipeline is used to transport hydrogen, atomic hydrogen is absorbed into the steel and can reduce the ductility, toughness and fatigue life of the steel. This means engineering, material testing and applied research are all required to support the pipeline's conversion. 
Future Fuels CRC has already delivered the results of testing the mechanical properties of pipelines in air at atmospheric pressure, and the predicted behaviour of the material in hydrogen assessed through engineering calculations and comparison with international literature. The results are overwhelmingly positive and are now being followed by testing in a gaseous hydrogen environment. This second phase of research is providing additional confidence of the service performance and allowing detailed safety studies and conversion plans to be developed. 
This conference paper will provide an overview of the results to date in view of applicable standards, as well as risk assessment and management frameworks. 
Delivering a Hydrogen Pipelines Code of Practice 
Pipeline infrastructure remains a highly cost-effective means of transporting and storing low carbon energy in the form of gaseous hydrogen but it must be done reliably, cost effectively and most importantly, safely. A key aspect of achieving this goal is the development of standards and guidelines that both address the unique demands of hydrogen service and support its future adoption within Australian and international standards. 
To achieve this, Future Fuels CRC is developing a new Code of Practice to provide guidance and recommended practice for the design, construction and operation of transmission pipelines for the intended purpose of transporting gaseous hydrogen or blends of hydrogen and hydrocarbon fluids, including in steel and high pressure composite materials. 
The Hydrogen Pipelines Code of Practice consolidates current knowledge, with a specific focus on hydrogen fluid compatibility with pipeline materials and differences compared to hydrocarbon fluids. 
The Code of Practice is a key step in converting research outcomes, both domestically and internationally, into usable knowledge and guidance for application by the industry. The presentation and paper will highlight the content of the Code of Practice and how industry will use it to support safe and reliable transmission of hydrogen in new and existing pipelines.