Hydrogen-explosion risk reduction by electrical area classification
EPC & Gas processing conference sessions - Health, Safety, Security and Environment
Description:
Hydrogen production is rising in popularity globally due to the increasing demand for clean energy. Operating companies are going to focus more and more on hydrogen projects in future. However, to be accepted widely by society, hydrogen projects should be executed safely and cost-effectively. The biggest challenge is the lack of proper industry standards/guidance and experience available for mitigating hazards associated with hydrogen mainly when the equipment is located indoors in an existing building or congested modules. In both cases, explosion-safe design becomes a major consideration, and an adequate risk assessment becomes essential to comply with Dangerous Substances and Explosive Atmospheres Regulations (DSEAR, UK) or ATEX (European) directive.

Hydrogen is a light gas with wide flammability range, even a very small release over time in a confined space can result in a build-up of hydrogen at the ceiling level or within the equipment enclosure leading to explosion risk. Whereas for an unconfined release in the open air, the gas will dissipate quickly thereby reducing explosion risk and leading to non-hazardous classification. Therefore, a proper classification is required to ensure that an optimum and safe design is selected. Particularly when executing fast-track projects, there could be potential cost and delay associated with the procurement of ATEX-rated equipment and in some instances, certain equipment may not be readily available for a hydrogen environment.

This paper discusses various approaches including risk-based approach to area classification when hydrogen is being utilised. Difference between area classification for hydrogen and other flammable gases/vapours and challenges associated with electrical classification of hydrogen especially when hydrogen is being processed or stored indoors is also discussed.
The paper succinctly discusses various codes, standards and guidelines that are used for electrical classification of facilities processing or storing hydrogen. Early detection of hydrogen leaks and how gas detection system can be interconnected to HVAC system to benefit the overall area classification design for explosion prevention.
Finally, the paper presents a case study to demonstrate on how explosion hazards can be prevented, reduced, or mitigated by performing area classification study and by selecting appropriate electrical and mechanical equipment and thereby preventing the ignition of hydrogen-air mixtures or build-up of explosive mixtures by provision of adequate ventilation.
Speaker/ Author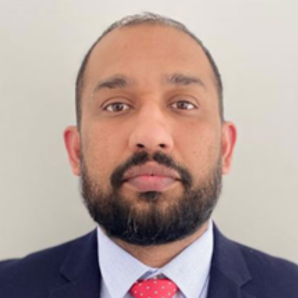 Nishin Hairs
Process Safety Engineer
Fluor