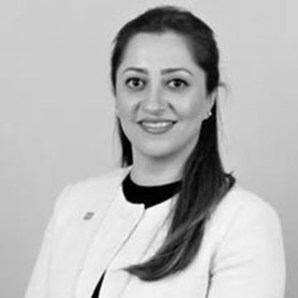 Ayla Majid

Chairperson / Founder and Chief Executive Officer

Government Holdings Pte Ltd (GHPL) / Planetive


bio
Ayla is a leading M&A and investment professional with high level governance and leadership experience across sectors: large infrastructure, energy and investments. Actively involved in energy transition in emerging market, sustainable finance, decarbonization, climate change, infrastructure and competitive energy market areas.
With over a decade of governance experience, Ayla sits on many local and global boards: Government Holdings; (chairing the board of a state owned energy holding company); Siemens Pakistan Engineering; and Abbott Laboratories (Pakistan) Limited. Member of the Board of Governors of The Helpcare Society (a non-profit running "Teach a Child Schools" for under privileged children). Elected Global Council Member, Association of Chartered Certified Accountants (UK). Through various roles pushing the boundary for sustainable energy, board diversity, sustainability led governance, digital financial inclusion and women in fintech.
Successfully completed Board Roles: Central Power Procurement Authority, Pakistan (company responsible for buying entire country's power); Mari Petroleum Company Limited, ISE-Real Estate Investment Trust; Islamabad Electric Supply Corporation, Islamabad Stock Exchange, and Intellectual Property Rights Organization of Government of Pakistan.
Young Global Leader 2015; served as member YGL Advisory Group; Member Global Future Council on Energy Transition of the World Economic Forum. In January 2020, Ayla moderated a high level discussion on the "The Global Risks" at the 50th Annual Meeting of the World Economic Forum in Davos.
Ayla is an Eisenhower Global Fellow 2021.
MBA, Lahore University of Management Sciences; LLB, University of London; ACCA; attended the National Security Workshop, National Defence University Pakistan; Global Leadership and Public Policy module, Harvard Kennedy School; Transformational Leadership module, Said Business School, University of Oxford; Nanyang Technology University Executive Education Module on "Smart Cities"; Princeton University Executive Education Module on "Advancing Global Energy Transition".